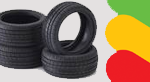 It is now possible to input more detailed tyre information and descriptions on the system if required. Technicians can specify the tyre seasonal type fitted (Winter, Summer, All Season etc) and can also input specific data against individual red and amber tyres such as tyre model (eg PZero, EcoSport etc), DOT Codes (eg 1418) and tyre type (eg Run Flat, Extra Load etc). Photos and notes can also be added to Red and Amber tyre job lines.
Red and Amber tyre depth default measurements can also be set individually by site for Summer, Winter and All Season fitted options.
For further information or help with this new functionality, please contact us on 01527 66444 or info@autoconnect.co.uk.