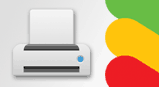 We have introduced a new 'Print Settings' feature to each page of Workshop Management. This will allow you to have fine control over how your Electronic Vehicle Health Check's print on all of your PC's. Read this article to find out how it works.
Quick Tip: Right click the print icon to print any type of Health Check.
Print Options:
The list box lets you select the type of Health Check you would like printed on this tab of Workshop Management. This will be remembered on your PC for each time you visit.
The options for how you would like the Health Check to be printed are changed on all the PC's at your dealership. You can then print a 'Customer Health Check' on any PC and know it will be printed in an identical format.