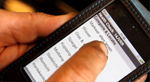 A video introduction to our EVHC Workshop Management system detailing the ease of use of our Electronic Vehicle Health Check System and some of the main features.
http://youtu.be/XBarLtfadKE
This video gives a brief look at the EVHC interface and has an interview of Hans Knoop of Knoop Maarssen BV, Holland. He explains the value of EVHC in increasing aftersales revenue, profits and the satisfaction and retention of his customers in his Mazda franchised dealership.
Also available in dutch, EVHC Holland – Het werkplaatsmanagement systeem:
http://youtu.be/VgIg5GL40k8