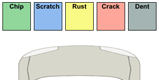 A brief guide to adding a body check using a compatable hand held device.
Note: This new feature of EVHC is compatible with Apple iPod Touch, iPhone, iPad and Google Android 2.1 +.
Tap on 'Body' from the 'Category & Location' screen on your handheld device.
Drag a coloured square (by holding down and moving your finger) onto the diagram of the vehicle where the defect is located.
Helpful Tips
To remove a defect you have added to the diagram, tap it.
To clear all defects you have marked on the diagram, tap 'Clear'.
Remember to tap save once you have made changes to the body check.