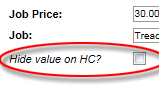 A brief guide on how to remove the price of an advised item on the Health Check report. This feature has been implemented within the Electronic Workshop Management system on the Customer Tab. See a demonstration image below or click read more.
Expand the details of a health check by clicking on the vehicle line. Advised items from the tech will then be displayed.
Click the "Outcome?" button and select either Sell, Lose or Defer options.
On the window that appears, you will see the option to "Hide value on Health Check?". Check the box and press save. The fitted price will no longer show on the Customer Health Check Report.