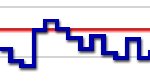 To be able to compare your performance with a target or benchmark, a comparable figure needs to be generated for comparison. A new set of figures added to the KPI report adds these values by working out performance based on health check counts rather than sum totals.
'This Week', 'Last Week', 'This Month' and 'Last Month' figures are shown as an average per health check and also total value. The graphed period on the report reflects the average values per health check every week for the previous 6 months, along with a red target/benchmark line if available for your dealership.

KPI Reports can be accessed by logging into the EVHC System and selecting 'Reports', 'Key Performance' located on your dealer dash board.
See sample key performance reports from our training dealer:
EVHC KPI Report English: Web - PDF
EVHC KPI Report Dutch: Web – PDF
EVHC KPI Report German: Web – PDF
EVHC KPI Report Australian: Web – PDF